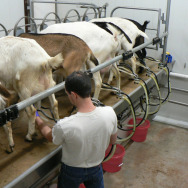 Matt Carman – owner of Liberty View Creamery, LLC and Carman's Tailwaggers; along with his mother Deb Carman, are located in the beautiful countryside of the Littlestown / Gettysburg area of southern Pennsylvania.
Before 2012, we primarily raised show quality LaManchas, American Alpines, and American Saanens, that milked well.
In 2012 we built an eight stall milking parlor and a processing plant. This allows us to produce and process Grade A Whole Pasteurized Creamline Goat Milk. We are one of only a few plants in PA that are federally inspected and approved that process Grade A pasteurized goat milk.
We offer tours by appointment.