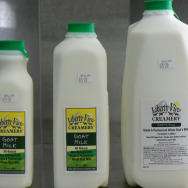 We operate an eight stall milking parlor and a processing plant. This allows us to produce and process Grade A Whole Pasteurized Creamline Goat Milk. We are one of only three  federally inspected and approved plants in PA that process Grade A pasteurized goat milk, and the only one to process its own milk.
We offer tours by appointment.
We plan to produce Goat Milk Ice Cream in the near future.  We are also contemplating the option of selling flavored milk, skim milk, and yogurt down the road.
Why Low Temperature Vat Pasteurization?